A. Body of Knowledge
Definition of Water Resources provided by the Law number 7, 2004 is "Water, water resources, and water resources contained therein", where the water here is "all the water that are on, above, or below ground, including in this sense the water's surface, ground water, rainwater and seawater in the ground". Field of Water Resources is a multidisciplinary field. Body of Knowledge (BoK) of Water Resources Engineering and Management Undergraduate Program must accommodate a wide range of disciplines required in managing engineering and water resources, among others, include:
Engineering
System Information, Economics and Management
Water Resources and Ecosystems
Society and Culture
Integrated Water Resources Management (IWRM)
Sustainable development of water resources field is the target to be achieved. BoK arranged compositions must have sufficient discipline to achieve goals. Engineering and Ecosystem as upstream discipline science should have a balanced composition. This should be supported by the management aspects involving information systems, social, economic and cultural. While IWRM as a discipline downstream component must have adequate as the understanding of natural resources must be integrated. For the BoK prepared with the composition as presented in Figure 3 below: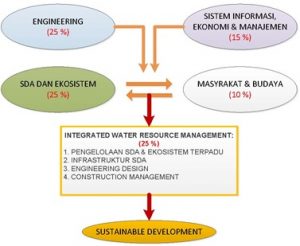 B. Challenges
Water Resources Engineering and Management Undergraduate Program was developed to be able positive energy in handling inundated issues are becoming increasingly important. The strategic issues relevant with national issues in the areas inundated, among others: food security, the problem of flooding, sea water level (rob), drought, environmental degradation of rivers and lakes, climate change, subsidence is groundwater and seawater intrusion, critical land and utilization of renewable energy. In addition the strategic issues, there are also issues related to management of natural resources in the form of community participation, coordination of planning and development, the multidisciplinary nature of the inter-sector, the role of regional autonomy, the management of the administrative area and watershed.
C. Accreditation
Reference accrediting organization of international professionalism is the Accreditation Board for Engineering and Technology (ABET)/American Academy of Water Resources Engineers (AAWRE). Benchmark national accrediting agency is the National Accreditation Board of Higher Education (BAN PT) with a national organization of professions Hydraulic Engineers Association Indonesia (Hathi).
D. References
Okereke, V.I, International Center for Water Resources Management, CSU, 2011: Undergraduate Degree Program: The Key to Increasing Minority Participation in Water Resources
American Society of Civil Engineers, 2008, Civil Engineering Body of Knowledge for the 21st Century: Preparing the Civil Engineer for the Future, 2nd ed., Prepared by the Body of Knowledge Committee of the Committee on Academic Prerequisites for Professional Practice, ASCE
American Academy of Water Resources Engineers, 2005, Body of Knowledge for Water Resources Engineering (www.aawre.org/files/pdf/wrebokjanuary.pdf).
http://www.abet.org
E. Educational Objectives and Outcomes
This study program has four objectives, i.e :
Making a vehicle for sustainable higher education in realizing engineering undergraduate in the field of Water Resources in the era of globalization, decentralization and privatization/corporate participatory and responsive to the wider community.
Making a vehicle for sustainable higher education in realizing human character independent person, noble, disciplined and tough, and empathy and participated actively in solving problems of man and nature preservation Indonesia and the problems of the world.
Produce engineering graduates with the basic ability to research and competence required and to be achieved, namely the ability and understanding of the design of facilities and infrastructure fields of Water Resources.
Produce engineering graduates in the field of Water Resources to meet the needs of the nation, which is expected to meet the needs of professionals in the field of Water Resources.
The study program is expected to produce graduates who have achievements (outcomes) below:
| | |
| --- | --- |
| Index | Outcomes |
| 1 | Knowledge in Mathematic |
| 2 | Knowledge in Science |
| 3 | Knowledge in Engineering |
| 4 | Design and execution of experiments, data analysis and interpretation |
| 5 | Design of systems, components, or processes to meet desired needs |
| 6 | Functioning on multi-disciplinary teams |
| 7 | Identifying, formulating, and solving water resources engineering Problems |
| 8 | Professional and ethical responsibility |
| 9 | Effective communication |
| 10 | Impact from engineering solutions in global and societal contexts |
| 11 | Need for and commitment to engage in life-long learning |
| 12 | Contemporary issues |
| 13 | Techniques, skills, and modern engineering tools necessary for engineering practice |
| 14 | Knowledge in a specialized area of water resources engineering |
| 15 | Elements of project management, construction, and asset management |
| 16 | Business, public policy, and administration fundamentals |
| 17 | Role of the leader and leadership principles and attitudes |
F. Curriculum of Water Resources Engineering and Management Undergraduate Program
Compulsory Courses
3rd SEMESTER

4th SEMESTER

No.
Courses Code
Courses
Credits
No.
Courses Code
Courses
Credits
1
SA2101
Engineering Mathematics I
3
1
SA2201
Engineering Mathematics II
3
2
SA2102
Fluid Mechanics
3
2
SA2202
–
3
3
SA2103
Hydrology I
3
3
SA2203
Hydraulics
3
4
SI2111
Statics
3
4
SA2204
Hydrology II
3
5
SI2101
Introduction to Civil Engineering Materials
3
5
SA2205
Ground Water
2
6
SI2122
–
3
6
SA2206
Hydrometry
2
7
KU206X
Religion and Ethics
2
7
SA2207
Water Resources Policy
2
8
KU2071
Pancasila and Civic Education
2
Total = 20 Credits

Total = 20 Credits

Total Credits= 40 Credits

5th SEMESTER
6th SEMESTER
No.
Courses Code
Courses
Credits
No.
Courses Code
Courses
Credits
1
SA3101
Sediment Transport
3
1
SA3201
Hydraulic Structure
3
2
SA3102
Irrigation System Planning
3
2
SA3202
Drainage System and Engineering
3
3
SA3103
Coastal and Lowland Engineering
3
3
SA3203
Moriphology and River Engineering
3
4
SA3104
Foundation Engineering for Hydraulic Structure
2
4
SA3204
Construction Management for Hydraulic Structrure
2
5
SA3105
Water Resources Modeling
3
5
SA3205
Impact and Climate Change
2
6
SA3106
Economy in Water Resources Engineering
2
Total = 16 Credits

Total = 13 Credits

Total Credits = 29 Credits

7th SEMESTER
8th SEMESTER
No.
Courses Code
Courses
Credits
No.
Courses Code
Courses
Credits
1
SA4098
Practical Works / Apprentice
2
1
SA4099
Final Project
4
2
SA4101
Integrated Flood Control Management
3
2
SA4201
Infrastructure of Water Transportation
2
3
SA4102
System Analysis and Water Resources Optimization
3
3
SA4202
Water Resources Management
3
4
SA4103
Dam and Hydropower
3
4
SA4203
Soil and Water Conservation
2
5
TL4201
Environmental Impact Assessment
3
Total = 11 Credits
Total = 14 Credits

Total Credits = 25 Credits

Elevative Courses
| | | | |
| --- | --- | --- | --- |
| No | Courses Code | Courses | Credits |
| 1 | SA3111 | Appropriate Technology in Water Resources | 2 |
| 2 | SA3211 | Introduction to Physical Hydraulic Model | 3 |
| 3 | SA4111 | Operation and Maintenance of Hydraulic Structure | 2 |
| 4 | SA4112 | River Protection and Restoration | 2 |
| 5 | SA4113 | Coastal and Lowland Protection and Restoration | 3 |
| 6 | SA4114 | Disaster Mitigation | 3 |
| 7 | SA4115 | Ecosystem of Lake and Pond | 2 |
G. Academic Staff

Agung Wiyono H.S, Dr. (ITB, Indonesia)
Arno Adi Kuntoro, Dr. (Hiroshima University, Jepang)
Dantje K. Natakusumah, Ph.D. (University of Walles, Swansea, Inggris)
Dhemi Harlan, Ph.D. (University of Walles, Swansea, Inggris)
Hadi Kardhana, Ph.D. (Tohoku University, Jepang)
Hernawan Mahfudz, MS. (ITB, Indonesia)
Iwan Kridasantausa, Ph.D. (Colorade State University, Amerika Serikat), Prof.
Joko Nugroho, Ph.D. (Nanyang Tecnological University, Singapura)
Yadi Suryadi, Dr. (ITB, Indonesia)
H. Contact Address
Water Resources Engineering and Management Undergraduate Program,
Labtek 1B 1st floor ITB Kampus Jatinangor
Jl. Raya Jatinangor KM. 20,75 – Sumedang
Phone     : +62 22 87836707
Fax         : +62 22 87836712
Email      :tpsda@ftsl.itb.ac.id
Website : www.tpsda.itb.ac.id