Accredited by the Engineering Accreditation Commission of ABET
A. Body of Knowledge
Civil Engineering was established with the Technische Hoogeschool te Bandoeng (TH – Bandoeng) on July 3, 1920. Civil Engineering includes of science aspects quite spacious. Civil Engineering has five research groups, as follows: Structural Engineering, Geotechnical Engineering, Water Resources Engineering, Transportation Engineering and Construction Engineering and Management. However, for Civil Engineering undergraduate study program, the specificity is not too prominent, but emphasis on the ability of graduates who have competence of civil engineering in general. Therefore, the body of knowledge of Civil Engineering study program at ITB in general as follows: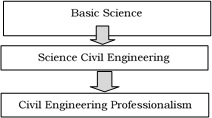 As for which is included in the Body of Knowledge (BoK) in Basic Science are Mathematics, Chemistry, and Physics. While included in the group BoK Science Civil Engineering are: Mathematical Engineering, Materials Science, Drawing Techniques, Mechanics of Materials, Fluid Mechanics, Soil Mechanics, Implementation Experiment, Design in the field of Civil Engineering, Concept of Sustainability, things contemporary and historical perspective, Project Management, and Specialization in the field of Civil Engineering. Furthermore, Civil Engineering Professional groups includes Communication, Public Policy, Businesses and Public Administration, Citizenship,     Globalization, Leadership, Teamwork, Behavior, Lifelong Learning, and Professional Ethics.
B. Challenges
Based on vision of Civil Engineering in 2025 from the American Society of Civil Engineers      (ASCE, 2007), Civil Engineering profession at the future should be accommodate the needs for the issue of globalization, sustainability, advanced technology, and increase the complexity of the problems should be faced, with regard the safety, health and welfare of public. Besides it with their demand for professionalism of Civil Engineering, thus the licensed engineer in Civil Engineering increased than just have a bachelor's degree being a graduate degree. It's relating with desire of ITB to integrate Undergraduate Curriculum and Magister Curriculum and the needs in the field with their work must have a Certificate of Expertise for construction workers in Indonesia.
In general, Civil Engineering Undergraduate Program must be trusted for public to create a sustainable world and to improve the quality of life globally performed competently, cooperation and based on ethical to act as:
Planner, designer, contractor and operator of infrastructure and economic and social – built environment.
Protector of the natural environment and its resources.
Creator and integrating ideas and technology among the public, private and academic.
The business risks and uncertainties caused by natural events, accidents and other threats.
Leader in the discussions and decision makers in the formation of public policy and infrastructure environment.
Further, nationally, the need for civil engineer whom able to perform the design in the field of civil engineering is still high because many infrastructure development in order to improve the economy and welfare of the community. In addition, because the location of Indonesia is prone to earthquakes, the need for civil engineer whom able to design resistant infrastructure for disaster of earthquake is very relevant
C. Accreditation or Curriculum Standards Reference
Undergraduate of Civil Engineering Study Program has obtained accreditation A from the National Accreditation Board of Higher Education. In 2016, Civil Engineering Program was to proceed resubmit the crediting of an international accrediting body, i.e. from the Accreditation Board for Engineering and Technology (ABET), from the United States of America. In addition, as part of the civil engineering undergraduate in the world, the vision and mission of the engineers of civil engineering globally adopt the ASCE's Vision for Civil Engineering in 2025. However, there is no standard curriculum out of the accrediting body or association that becomes a specific reference to Study Program Curriculum of Undergraduate Civil Engineering 2013.
D. References
Some of the resources into the study materials for curriculum development in 2013 are:
ASCE, The Vision of Civil Engineering in 2025, The Summit on the Future of Civil Engineering—2025, June 21–22, 2006. ASCE, 2007.
ASCE, Achieving the Vision of Civil Engineering in 2025: A Roadmap for the Profession. ASCE, 2009.
ABET, Criteria for Accrediting Engineering Programs, 2013 – 2014.
E. Educational Objectives and Outcomes Graduates
The educational objectives of Civil Engineering Program at Institut Teknologi Bandung are the graduates within several years after graduation will:
Demonstrate a superior technical and managerial ability in pursuing career in the field of planning, design, construction, operation, and maintenance of civil engineering infrastructures.
Demonstrate professional and ethical responsibility in working on various fields of civil engineering profession, including structural and construction engineering, geotechnical engineering, water resources engineering, transportation engineering, and construction and management engineering.
Demonstrate pioneering and leadership in any efforts of improvements contributed to their communities with their knowledge in civil engineering.
Demonstrate an appreciation for lifelong learning and for the value of professional development through participation in continuing education activities, formally as well as informally.
The student outcomes for Civil Engineering Program are:
Students will demonstrate an ability to apply knowledge of mathematics, science, and engineering.
Students will demonstrate an ability to design and conduct experiments, as well as to analyze and interpret data.
Students will demonstrate an ability to design a system, component, or process to meet desired needs within realistic constraints such as economic, environmental, social, political, ethical, health and safety, manufacturability, and sustainability.
Students will demonstrate an ability to function on multidisciplinary teams.
Students will demonstrate an ability to identify, formulate, and solve engineering problems.
Students will demonstrate an understanding of professional and ethical responsibility.
Students will demonstrate an ability to communicate effectively.
Students will demonstrate the broad education necessary to understand the impact of engineering solutions in a global, economic, environmental, and societal context.
Students will demonstrate recognition of the need, and an ability to engage in life-long learning.
Students will demonstrate knowledge of contemporary issues.
Students will demonstrate an ability to use the techniques, skills, and modern engineering tools necessary for engineering practice.
F. Curriculum of Civil Engineering Undergraduate Program
Compulsory Courses
3rd SEMESTER
4th SEMESTER

No.
Courses Code

Courses
Credits
No.
Courses Code
Courses
Credits
1.
SI 2101
Introduction to Civil Engineering Materials
3
1.
GD 2001
Introduction to Surveying
2
2.
SI 2102
Statistics and Probabilities
3
2.
BI 2001
General Environmental Science
2
3.
SI 2103
Engineering Mathematics
3
3.
SI 2201
Numerical Method
3
4.
SI 2111
Statics
3
4.
SI 2211
Strength of Material
3
5.
SI 2131
Fluid Mechanics and Hidraulics
3
5.
SI 2221
Mekanika Tanah I
3
6.
SI 2141
Introduction to Transportation Engineering
3
6.
SI 2231
Soil Mechanics I
3
7.
SI 2241
Traffic Engineering
2
Total
18
Total
18
Total Credits  = 36 credits
5th SEMESTER

6th SEMESTER
1.
SI 3111
Structural Analysis I
3
1.
SI 3211
Structural Analysis II
3
2.
SI 3112
Concrete Structures
3
2.
SI 3212
Steel Structures
3
3.
SI 3151
Construction Management
3
3.
SI 3213
Structure Dynamic & Earthquake Engineering
3
4.
SI 3121
Soil Mechanics II
3
4.
SI 3221
Foundation Engineering
3
5.
SI 3131
Irrigation and Drainage Structure
3
5.
SI 3241
Pavement Design of Roads
2
6.
SI 3141
Geometric and Design of Highway
2
6.
SI 3251
Construction Method
3
Total
17
Total
17
Total Credits = 34 credits
7th SEMESTER

8th SEMESTER

1.
SI 4098
Job Training / Internship
2
1.
SI 4099
Final Project
4
2.
SI 4111
Structural Engineering & Desain
3
2.
KU 2071
Pancasila and Civic Education
2
3.
SI 4151
Engineering Economics
3
3.
SI 4201
Civil Engineering Systems
3
4.
KU 206X
Religion and Ethics
2
4.
SI 4231
Hydraulic Structure
3
Total
10
Total
12
Total Credits = 22 credits

Elevative Courses
| | | | |
| --- | --- | --- | --- |
| NO | Courses Code | Courses | Credits |
| 1 | SI4112 | Advanced Concrete Structures | 3 |
| 2 | SI4113 | Wood Structures | 3 |
| 3 | SI4121 | Introduction to Soil Dynamics and Earthquake Engineering | 3 |
| 4 | SI4131 | Water Resources Development | 3 |
| 5 | SI4132 | Coastal and Lowland Engineering | 3 |
| 6 | SI4141 | Trip Demand Analysis | 3 |
| 7 | SI4142 | Pavement Structure and Material Engineering | 3 |
| 8 | SI4143 | Traffic Management | 3 |
| 9 | SI4152 | Construction Cost Estimation | 3 |
| 10 | SI4153 | Heavy Civil Construction Methods and Project Management for Infrastruc | 3 |
| 11 | SI4211 | Prestressed Concrete | 3 |
| 12 | SI4212 | Advanced Steel Structures | 3 |
| 13 | SI4221 | Retaining Structures and Stability | 3 |
| 14 | SI4232 | River Engineering | 3 |
| 15 | SI4233 | Hydropower Engineering Building | 3 |
| 16 | SI4241 | Railway Engineering | 3 |
| 17 | SI4242 | Pavement Evaluation and Maintenance | 3 |
| 18 | SI4243 | Intermodal Infrastructure Engineering | 3 |
G. Academic Staff

The Civil Engineering Program is currently served by 76 faculties:
Adang Surahman, Ph.D. (Lehigh University, Amerika Serikat) Prof.
Ade Sjafruddin, Ph.D. (DTU, Denmark), Prof.
Agung Wiyono H.S, Dr. (ITB, Indonesia)
Aine Kusumawati, Dr. (Nanyang Technological University, Singapura)
Amrinsyah Nasution, Ph.D. (University Minnesota, Amerika Serikat), Prof.
Ana Nurganah Chaidar, MT. (Institut Teknologi Bandung, Indonesia)
Aris Aryanto, Dr (Eng). (Tokyo Institute of Technology, Japan)
Aris Indriyatno, MT. (Institut Teknologi Bandung, Indonesia)
Arno Adi Kuntoro, Dr. (Hiroshima University, Jepang)
Awal Surono, Dr. (ITB. Indonesia)
Bambang Boediono, Ph.D. (University of Leeds, UK), Prof.
Bambang Sugeng S., Dr. (Ecole Centrale de Lyon, Perancis), Prof.
Beni Taufik Rayadi, MT (ITB. Indonesia)
Biemo W. Soemardi, Ph.D. (University Kentucky, Amerika Serikat)
Bigman M. Hutapea, Ph.D. (University Colorado, Amerika Serikat)
Binsar Hariandja, Ph.D. (University Illinois, Amerika Serikat) , Prof.
Cahyono, Ph.D. (University Bradford, UK)
Dantje K. Natakusumah, Ph.D. (UW, Swansea, Inggris)
Dedi Apriadi, Ph.D. (Chulalongkorn University, Thailand)
Dhemi Harlan, Ph.D. (UW, Swansea, UK)
Djunaedi Kosasih, Ph.D. (University Birmingham, Inggris)
Dyah Kusumastuti , Ph.D. (SUNY, Buffalo, Amerika Serikat)
Ediansjah, Dr. Ing. (Technische Universitat Dresden, Jerman)
Edy Anto Soentoro G., Ph.D. (Colorado State University, Amerika Serikat)
Eliza Rosmaya Putri, MT (ITB, Indonesia)
Endra Susila, Ph.D. (University of Michigan, Amerika Serikat)
Eri Susanto Hariyadi, Dr. (ITB, Indonesia)
Erza Rismantojo, Dr. (Purdue University, Amerika Serikat)
F.X. Toha, Ph.D. (University of Wisconsin, Amerika Serikat)
Febri Zukhruf, Dr (Eng). (Kyoto University, Japan)
Hadi Kardana, Ph.D. (Tohoku University, Jepang)
Harmein Rahman, Dr. (ITB, Indonesia)
Harun Al Rasyid, S.L, Ph.D. (University Leeds, UK)
Hasbullah Nawir, Ph.D. (University Tokyo, Jepang)
Herlien D. Setio, Ph.D. (Ecole Centrale de Lyon, Perancis), Prof.
Hernawan Mahfudz, MS. (ITB, Indonesia)
I Gde Widiadnyana Merati, Dr. (INSA, Toulouse, Perancis), Prof.
I Wayan Sengara, Ph.D. (University of Wisconsin, Amerika Serikat)
Idwan Santoso, Ph.D. (University of Birmingham, UK)
Ima fatima, M.Eng. (Saitama University, Jepang)
Indra Djati Sidi, Ph.D. (University of Illinois, Amerika Serikat)
Indratmo Soekarno, Ph.D. (University Strathclyde, UK), Prof.
Iris Mahani, MT (Universitas Parahyangan, Indonesia)
Iswandi Imran, Ph.D. (University Toronto, Kanada) Prof.
Ivan Sandi Darma, Ph.D. (Hokkaido University, Sapporo Jepang)
Ivindra Pane, Ph.D. (University of Michigan, Amerika Serikat)
Iwan Kridasantausa, Ph.D. (Colorade State University, Amerika Serikat), Prof.
Joko Nugroho, Ph.D. (Nanyang Tecnological University, Singapura)
Krishna S. Pribadi, Dr. (INSA, Lyon, Perancis), Prof.
Made Suarjana, Ph.D. (Stanford University, Amerika Serikat)
Masyhur Irsyam, Ph.D. (University of Michigan, Amerika Serikat), Prof.
Meifrinaldi. MT. (Institut Teknologi Bandung, Indonesia)
Mohammad Farid, Ph.D (Tohoku University, Sendai Jepang)
Muhamad Abduh, Ph.D. (Purdue University, Amerika Serikat)
Muhammad Riyansyah, Ph.D. (National University of Singapore, Singapore)
Muslinang Moestopo, Ph.D. (University of Wisconsin, Amerika Serikat)
Nasuhi Zain, MT. (Institut Teknologi Bandung, Indonesia)
Nurul Wahjuningsih, MT. (Institut Teknologi Bandung, Indonesia)
Ofyar Z. Tamin. Ph.D. (University of London, UK), Prof.
Puti Farida Marzuki, Dr. (ENPC, Paris, Perancis) Prof.
Reini D. Wirahadikusumah, Dr. (Purdue University, Amerika Serikat)
Rani Gayatri Kusumawardhani, Ph.D. (Colorado State University, USA)
Rizal Z. Tamin, Dr. (ENPC, Paris, Perancis), Prof.
Rudy Hermawan K., Ph.D. (University of Leeds, UK)
Russ Bona Frazila. Dr. (Hirosima University, Jepang)
Saptahari M. Soegiri Putra, Dr. (Ecole Centrale de Lyon, Perancis)
Sigit Darmawan, Dr. (ECN, Nantes, Perancis)
Sindur P. Mangkoesoebroto, Dr. (University of Wisconsin – Madison, Amerika Serikat)
Sony Sulaksono Wibowo, Dr. (Chulalangkorn University, Thailand)
Sri Hendarto, Dr. (Univeritas Padjadjaran, Indonesia)
Sri Legowo, W.D. Dr. (ECP. Perancis)
Sugeng Krisnanto, Ph.D. (Nanyang Technological University, Singapore)
Syahril Badri Kusuma, Dr. (ECN, Nantes, Perancis), Prof.
Titi Liliani , M.Sc. (University Birmingham, Inggris)
Widyarini Weningtyas, Ph.D. (Hiroshima University, Japan)
Yadi Suryadi, Dr. (ITB, Indonesia)
H. Enrollment and Graduation
Year
Student Enrollment
Graduating Student
Total
April
July
October
2011
491
21
78
81
180
2012
500
18
67
50
135
2013
500
11
58
76
145
2014
490
20
74
65
159
2015
489
10
66
82
158
2016
505
22
89
51
162
I. Contact Address
Civil Engineering Undergraduate Program,
Faculty of Civil and Environmental Engineering
Jl. Ganesha No. 10 Bandung 40132
Phone    : +62 22-2504556
Faks      : +62-22-2510713
Email     : tu@si.itb.ac.id
Website : http: //www.si.itb.ac.id