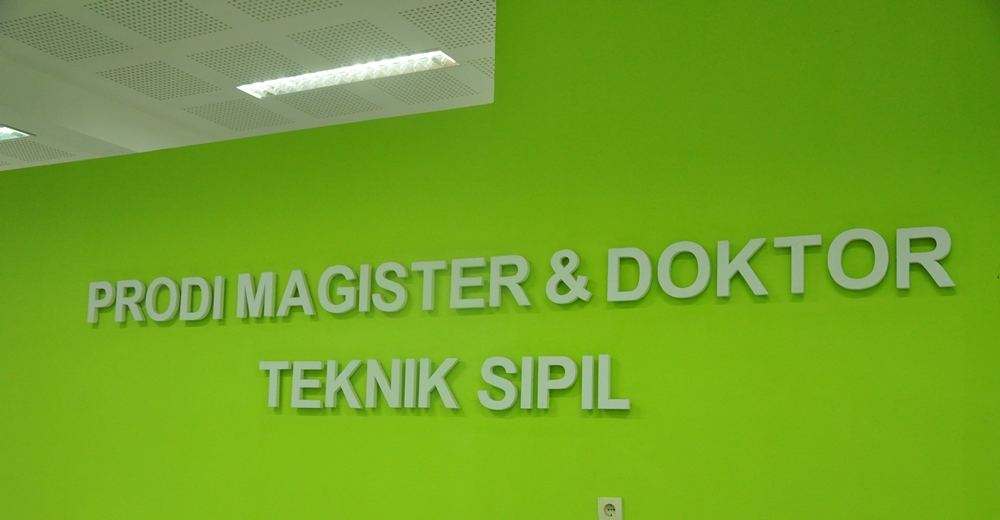 A. Body of Knowledge
Civil Engineering Master Program includes of wide science aspects with the development of sciences. Civil Engineering Master Program is a continuation of Civil Engineering Undergraduate Program. Unified whole has been designed between degree program and master program, in which master programs is an area of specialization or further prioritization of degree program, which is intended only to produce graduates who have the ability to design in the field of civil engineering. The integration is concerned with level of competence in the field of preferential treatment.           At undergraduate level, only knowledge of the field's competence prioritizing, while at master level of competence expected the ability of analysis, synthesis, and evaluation of a problem in the field of civil engineering prioritizing.
Civil Engineering Master Program has six (6) areas of prioritization, namely:
Structural Engineering
Geotechnical Engineering
Water Resources Engineering
Construction Engineering and Management
Transportation Engineering
Infrastructure Engineering and Management
With basic sciences, civil engineering and related with sciences professionalism of civil engineering at the undergraduate level, Body of Knowledge Master programs related with sciences majoring in civil engineering more highly associated with the life cycle stage of a physical infrastructure, namely sciences related with planning, design, construction, Operation and Maintenance             (O and M). Overview Body of Knowledge (BoK) Civil Engineering Master Program in Figure 4 below.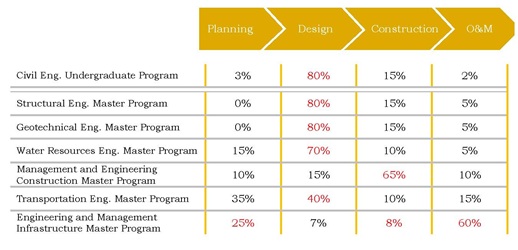 B. Challenges
Basically, challenges of graduate Civil Engineering Master Program equal with challenge for graduates of Civil Engineering Undergraduate Program. Other challenges of graduates civil engineering master program should be more in-depth competence in the field chosen prioritizing and can carry out research in the field better.
The vision of civil engineering in 2025 from the American Society of Civil Engineers (ASCE, 2007), the profession of civil engineering in the future should be able to accommodate the need for the issue of globalization, sustainability, advanced technology, and increasing complexity of problems that must be faced, with due regard to safety, health and welfare of the public. Besides the high demand for professionalism in civil engineering, the civil engineering engineer license needs increased from only having a college degree, became a graduate degree. It is closely related with the desire to integrate curriculum of ITB (Undergraduates and Masters) as well as requirements in the field with their work must have a certificate of expertise for construction workers in Indonesia.
Furthermore, a graduate of Civil Engineering Master Program must be trusted by public to create a sustainable world and improve the quality of life, globally performed competently, cooperation and based on ethical to act as:
Planners, designers, construction contractors, and economic and social infrastructure operator community built environment.
Protector of the natural environment and its resources.
Creator and integrating ideas and technology among the public, private and academic.
The business risks and uncertainties caused by events naturally, accidents and other threats.
Leader in discussions and decision makers in the formation of public policy and infrastructure environment.
The need for graduates of master of civil engineering which contribute in the field of civil engineering primacy is still high with still many infrastructures development improving the economy and welfare of public. In addition, because the location of Indonesia is prone to earthquakes, the need for graduates of Master Program in Civil Engineering is capable of doing planning, design, and management of earthquake-resistant infrastructure is particularly relevant.
C. Accreditation or Curriculum Standards Reference
Master of Civil Engineering has obtained accreditation from the National Accreditation Board of Higher Education (BAN PT). As part of civil engineering world, the vision and mission of the engineers of civil engineering globally adopt the ASCE's Vision for Civil Engineering in 2025. Many professional associations in Indonesia, in the prioritization of civil engineering has been working to provide an idea of current conditions, expectations, challenges and curriculum development.
D. References
Some of  resources into study materials for curriculum development in 2013 are as follows:
ASCE, The Vision of Civil Engineering in 2025, The Summit on the Future of Civil Engineering 2025, June 21–22, 2006. ASCE, 2007.
ASCE, Achieving the Vision of Civil Engineering in 2025: A Roadmap for the Profession. ASCE, 2009.
E. Educational Objectives and Outcomes Graduates
Educational Objectives of Civil Engineering Master Program are:
Establish a graduate with an independent character and have responsibility of professions in order to actively participate in infrastructure development activities are safe and environmentally sound in era of globalization, decentralization and privatization/corporate and responsive to community participation.
Making a vehicle for sustainable higher education in realizing human character independent person, noble, disciplined and tough, empathy and actively participate in solving problems of man and nature preservation Indonesia and problems of the world at large.
Produce graduates who have basic skills that can develop at the level of secondary education as a doctoral program that requires the ability to research, creation and innovation that are original.
Competence of graduates Civil Engineering Master Program are:
Have the ability to develop and continue to renew science and technology in the field of Civil Engineering selected by mastering and understanding the approach, method, scientific principles, with application skills.
Have the ability to design and conduct experiments or research in the field of Civil Engineering, analyzing, and interpreting and presenting data.
Have the ability to identify, formulate and solve problems in Civil Engineering (mainly defines the scope of the problem) in the complex process systems.
Have the ability to develop professional performance as indicated by the sharpness of the analysis of the problem, self-contained reviews, cohesion troubleshooting or similar profession.
Having the ability to design systems, processes, or components of a complex civil engineering as needed.
Have knowledge and a broad understanding of the implications of civil engineering profession in a global context and relate effectively to current issues such as technological development, environmental impact and lifecycle analysis.
F. Curriculum Structures
1. Compulsory Courses of Structural Engineering
Number
Codes
Courses
Credits
1.
SI  5098
Research Methodology
3
2.
SI  5101
Engineering Analysis
3
3.
SI  5111
Elasticity and Plasticity
3
4.
SI  6099
Research and Thesis
6
Number
Elective Courses
Credits
1.
Study Program
0
2.
Other Study Program
0
3.
Elective Free
0
Total Credits = 15 Credits
2. Compulsory Courses of Geotechnical Engineering
Number
Codes
Courses
Credits
1.
SI  5098
Research Methodology
3
2.
SI  5101
Engineering Analysis
3
3.
SI  5121
Advanced Soil Mechanics
3
4.
SI  5122
Field and Laboratory Soil Investigation
3
5.
SI  5123
Soil Behavior
3
6.
SI  5221
Advance Engineering Foundation
3
7.
SI  5222
Stability Problems in Geotechnical Engineering
3
8.
SI  6099
Research and Thesis
6
9.
SI  6121
Soil Dynamics and Earthquake Engineering
3
Number
Elective Courses
Credits
1.
Study Program
0
2.
Other Study Program
0
3.
Elective Free
0
Total Credits = 30 Credits
3. Compulsory Courses Water Resources Engineering
Number
Codes
Courses
Credits
1.
SI  5098
Research Methodology
3
2.
SI  5101
Engineering Analysis
3
3.
SI  5131
Advanced Fluid Mechanics
3
4.
SI  5132
Water Resources Management Planning
3
5.
SI  5231
Numerical Methods and Finite Element
3
6.
SI  5232
Advanced Hydraulics
3
7.
SI  5233
Advanced Engineering Hydrology
3
8.
SI  6099
Research and Thesis
6
Number
Elective Courses
Credits
1.
Study Program
0
2.
Other Study Program
0
3.
Elective Free
0
Total Credits = 27 Credits
4. Compulsory Courses Transportation Engineering
Number
Codes
Courses
Credits
1.
SI  5098
Research Methodology
3
2.
SI  5101
Engineering Analysis
3
3.
SI  5141
Transportation Policy and Planning
3
4.
SI  5142
Transportation Economics
3
5.
SI  5143
Transportation Infrastructure Engineering
3
6.
SI  6099
Research and Thesis
6
7.
SI  6141
Group Project
3
Number
Elective Courses
Credits
1.
Study Program
0
2.
Other Study Program
0
3.
Elective Free
0
Total Credits = 24 Credits
5. Compulsory Courses Management and Engineering Construction
Number
Codes
Courses
Credits
1.
SI  5098
Research Methodology
3
2.
SI  5101
Engineering Analysis
3
3.
SI  5151
Construction Productivity
3
4.
SI  5152
Project Planning and Controlling System
3
5.
SI  5153
Construction Business Management
3
6.
SI  5251
Legal Aspects and Contract Management
3
7.
SI  5252
Construction Cost Engineering
3
8.
SI  5253
Design & Analysis of Construction Operations
3
9.
SI  6099
Research and Thesis
6
Number
Elective Courses
Credits
1.
Study Program
0
2.
Other Study Program
0
3.
Elective Free
0
Total Credits = 30 Credits
6. Compulsory Courses Engineering and Management Infrastructure
Number
Codes
Courses
Credits
1.
SI  5098
Research Methodology
3
2.
SI  5101
Engineering Analysis
3
3.
SI  5161
Infrastructure Management
3
4.
SI  5162
Feasibility Study and Funding of Infrastructures
3
5.
SI  5261
Infrastructure Operation Management
3
6.
SI  5262
Assessment and Evaluation of Infrastructure Condition
3
7.
SI  5263
Infrastructure Maintenance and Rehabilitation
3
8.
SI  6099
Research and Thesis
6
9.
SI  6161
Infrastructure Management Information System
3
Number
Elective Courses
Credits
1.
Study Program
0
2.
Other Study Program
0
3.
Elective Free
0
Total Credits = 30 Credits
Elective Courses of Civil Engineering Master Program
| | | | |
| --- | --- | --- | --- |
| Number | Codes | Courses | SKS |
| 1 | SI  5001 | Advanced Numerical Method | 3 |
| 2 | SI  5112 | Advanced Mechanics of Material | 3 |
| 3 | SI  5113 | Advanced Concrete Technology | 3 |
| 4 | SI  5114 | Concrete Structure Behavior | 3 |
| 5 | SI  5211 | Behavior of Steel Structures | 3 |
| 6 | SI  5212 | Advanced Structural Dynamics | 3 |
| 7 | SI  5241 | Transportation System Simulation Model | 3 |
| 8 | SI  5242 | Advanced Traffic Engineering | 3 |
| 9 | SI  5243 | Airport Planning and Design | 3 |
| 10 | SI  5244 | Port Planning and Design | 3 |
| 11 | SI  5245 | Transportation System Modeling | 3 |
| 12 | SI  5246 | Terminal Planning and Design | 3 |
| 13 | SI  5247 | Public Transportation System | 3 |
| 14 | SI  5248 | Transportation Network Analysis | 3 |
| 15 | SI  5249 | Railway Operation Management | 3 |
| 16 | SI  6011 | Special Topics : Structural Engineering | 3 |
| 17 | SI  6042 | Special Topics: Transportation Engineering | 3 |
| 18 | SI  6051 | Special Topic in Construction Engineering and Management | 3 |
| 19 | SI  6111 | Experimental Dynamic and Control | 3 |
| 20 | SI  6112 | Bridge Engineering | 3 |
| 21 | SI  6113 | Theory of Stability | 3 |
| 22 | SI  6114 | Plastic Design | 3 |
| 23 | SI  6115 | Earthquake Engineering | 3 |
| 24 | SI  6116 | Probability and Reliability in Structural Engineering | 3 |
| 25 | SI  6131 | Theory of Groundwater Modeling | 3 |
| 26 | SI  6132 | Physical Hydraulic Model | 3 |
| 27 | SI  6133 | Erosion and Sediment Transport | 3 |
| 28 | SI  6134 | Transient Flow in Pipes | 3 |
| 29 | SI  6135 | Coastal Structure | 3 |
| 30 | SI  6142 | Transportation Costing | 3 |
| 31 | SI  6143 | Airport Operation Management | 3 |
| 32 | SI  6144 | Port Operation Management | 3 |
| 33 | SI  6145 | Environment and Safety Impact Assessment | 3 |
| 34 | SI  6146 | Transportation Infrastructure Maintenance Management System | 3 |
| 35 | SI  6147 | Transportation Infrastructure Project Management | 3 |
| 36 | SI  6148 | Goods Transportation Planning | 3 |
| 37 | SI  6149 | Urban Transportation | 3 |
| 38 | SI  6151 | Quality Management in Construction | 3 |
| 39 | SI  6152 | Decision Making in Probability | 3 |
| 40 | SI  6162 | Special Topics in Infrastructure Engineering | 3 |
| 41 | SI  6211 | Optimization in Structure Engineering | 3 |
| 42 | SI  6212 | Experimental Method in Civil Engineering | 3 |
| 43 | SI  6213 | Design of Structures and Foundation for Vibrating Machines | 3 |
| 44 | SI  6221 | Soil Improvement | 3 |
| 45 | SI  6222 | Special Topics in Geotechnical Engineering | 3 |
| 46 | SI  6223 | Finite Element Methods | 3 |
| 47 | SI  6224 | Rock Mechanics | 3 |
| 48 | SI  6225 | Foundation Dynamics | 3 |
| 49 | SI  6226 | Soil Structure Interactions | 3 |
| 50 | SI  6231 | Water Quality Modeling | 3 |
| 51 | SI  6232 | Analysis of Water Resources | 3 |
| 52 | SI  6233 | Lake Hydrodynamics | 3 |
| 53 | SI  6234 | Decision Support System Water Resources | 3 |
| 54 | SI  6241 | Econometric in Transportation Engineering | 3 |
| 55 | SI  6251 | Construction Safety | 3 |
| 56 | SI  6252 | Human Resources Management in Construction Industry | 3 |
| 57 | SI  6253 | Construction Project Risk Management | 3 |
| 58 | SI  6261 | Disaster Mitigation on Infrastructure | 3 |
| 59 | SI  6262 | Environmental Management | 3 |
G. Academic Staff

Adang Surahman, Ph.D. (Lehigh University, Amerika Serikat), Prof.
Ade Sjafruddin, Ph.D. (DTU, Denmark), Prof.
Agung Wiyono H.S, Dr. (ITB, Indonesia)
Aine Kusumawati, Dr. (Nanyang Technological University, Singapura)
Amrinsyah Nasution, Ph.D. (University Minnesota, Amerika Serikat), Prof.
Ananta Sofwan, Dr. (INSA, Rennes, Perancis)
Arno Adi Kuntoro, Dr. (Hiroshima University, Jepang)
Awal Surono, Dr. (ITB. Indonesia)
Dyah Kusumastuti , Ph.D. (SUNY, Buffalo, Amerika Serikat)
Bambang Sugeng S., Dr. (Ecole Centrale de Lyon, Perancis), Prof.
Biemo W. Soemardi, Ph.D. (University Kentucky, Amerika Serikat)
Bigman M. Hutapea, Ph.D. (University Colorado, Amerika Serikat)
Binsar Hariandja, Ph.D. (University Illinois, Amerika Serikat), Prof.
Dantje K. Natakusumah, Ph.D. (UW, Swansea, Inggris)
Dedi Apriadi, Ph.D. (Chulalongkorn University, Thailand)
Dhemi Harlan, Ph.D. (UW, Swansea, Inggris)
Djunaedi Kosasih, Ph.D. (University of Birmingham, Inggris)
Edy Anto Soentoro G., Ph.D. (Colorado State University, Amerika Serikat)
Endra Susila, Ph.D. (University of Michigan, Amerika Serikat)
Eri Susanto Hariyadi, Dr. (ITB, Indonesia)
Erza Rismantojo, Dr. (Purdue University, Amerika Serikat)
X. Toha, Ph.D. (University of Wisconsin, Amerika Serikat)
Hadi Kardhana, Ph.D. (Tohoku University, Jepang)
Harmein Rahman, Dr. (ITB, Indonesia)
Harun Al Rasyid, S.L, Ph.D. (University of Leeds, Inggris)
Hasbullah Nawir, Ph.D. (University Tokyo, Jepang)
Herlien D. Setio, Ph.D. (Ecole Centrale de Lyon, Perancis), Prof.
I Wayan Sengara, Ph.D. (University of Wisconsin, Amerika Serikat)
Iwan Kridasantausa, Ph.D. (Colorado State University, Amerika Serikat), Prof.
Idwan Santoso, Ph.D. (University of Birmingham, Inggris)
Indra Djati Sidi, Ph.D. (University of Illinois, Amerika Serikat)
Indratmo Soekarno, Ph.D. (University Strathclyde, Inggris), Prof.
Ima fatima, M.Eng. (Saitama University, Jepang)
Iswandi Imran, Ph.D. (University of Toronto, Kanada) Prof.
Ivindra Pane, Ph.D. (University of Michigan, Amerika Serikat)
Joko Nugroho, Ph.D. (Nanyang Tecnological University, Singapura)
Krishna S. Pribadi, Dr. (INSA, Lyon, Perancis), Prof.
Cahyono, Ph.D. (University Bradford, Inggris)
Masyhur Irsyam, Ph.D. (University of Michigan, Amerika Serikat), Prof.
Muhamad Abduh, Ph.D. (Purdue University, Amerika Serikat)
Syahril Badri Kusuma, Dr. (ECN, Nantes, Perancis), Prof.
R. Reini D. Wirahadikusumah, Dr. (Purdue University, Amerika Serikat)
Ofyar Z. Tamin. Ph.D. (University of London, Inggris), Prof.
Puti Farida Marzuki, Dr. (ENPC, Paris, Perancis) Prof.
Bambang Boediono, Ph.D. (University of Leeds, Inggris), Prof.
Sony Sulaksono Wibowo, Dr. (Chulalangkorn University, Thailand)
Rizal Z. Tamin, Dr. (ENPC, Paris, Perancis), Prof.
Rudy Hermawan K., Ph.D. (University of Leeds, Inggris)
Russ Bona Frazila. Dr. (Hirosima University, Jepang)
Sigit Darmawan, Dr. (ECN, Nantes, Perancis)
Sri Hendarto, Dr. (Univeritas Padjadjaran, Indonesia)
Sri Legowo, W.D. Dr. (ECP. Perancis)
Titi Liliani, M.Sc. (University of Birmingham, Inggris)
Yadi Suryadi, Dr. (ITB, Indonesia)
H. Contact Address
Civil Engineering Master Program,
Faculty of Civil and Environmental Engineering
Phone  : +62 22 2506445
Fax. : +62 22 2506645
Email : tu@si.itb.ac.id
Website : www.si.itb.ac.id