Friday (05/02/2016) The second study programs introduction was hold on Friday, February 5th 2016 at Aula Barat ITB for 2015 batch students by Faculty of Civil and Environmental Engineering. This event was opened by Faculty of Civil and Environmental Engineering's Dean, Prof. Ir. Ade Sjafruddin, M.Sc., Ph.D and continued with brief explanation by the Dean's Vice, Ir. Irsan Soemantri Brodjonegoro, Ph.D. He said that the 2015 students' average GPA increased from 3,08 to 3,32. In this event, the Dean List was given for students with high Grade Point at the last semester.
Besides students and lecturers, this event also filled by Alumni from each program. One of them was Maraita Listyasari, ST, MM, graduated from Environmental Engineering in 1998 and she is a Water and Sanitation Specialist in the World Bank.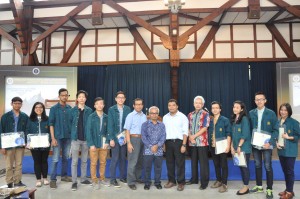 Deny Ramadhani, ST., MT, large dams engineer, also attended the event. He graduated from the bachelor program Civil Engineering in 1995 and master program Water Resources Engineering in 2002. He is a Team Leader IME DOISP Bappenas. It was said that the role and participation of professional in Water Resources Engineering is widely open, starting from government employees, state-owned enterprises (BUMN), private employees, even International Organization or becoming an entrepreneur.
Meanwhile from the Ocean Engineering program filled by the first alumni (1994) by Eddy Probowo, ST., M.Si. He is a Senior Subsea and Offshore Structural Engineer, Saka Indonesia Pangkah Limited. On that occasion he showed some photos of Ocean Engineering's alumni that works as Offshore Engineer, Pipeline Engineer, Coastal Engineer, Port Engineer, Governments Employee and Entrepreneur.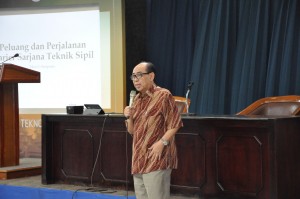 For Environmental Engineering, Randy Ismail who attended Environmental Engineering class at 1990 is a President Director of PT Insolity Consulting and HSE principal consultant / trainer / auditor at PT. ERM Indonesia. He explained his career after graduating from the Environmental Engineering of 1994, starting becoming Environmental Engineer at PT. Jaya Engineering to President Director.
The last was from Civil Engineering's alumni, Hari G Soeparto, graduated in 1965. He said that the career of Civil Engineering graduates was very broad, ranging from opening massage parlors until President. It was proved by one of his colleagues that opens massage parlors and the First President of Indonesia, Ir. Soekarno, who was graduated from ITB's Civil Engineering.