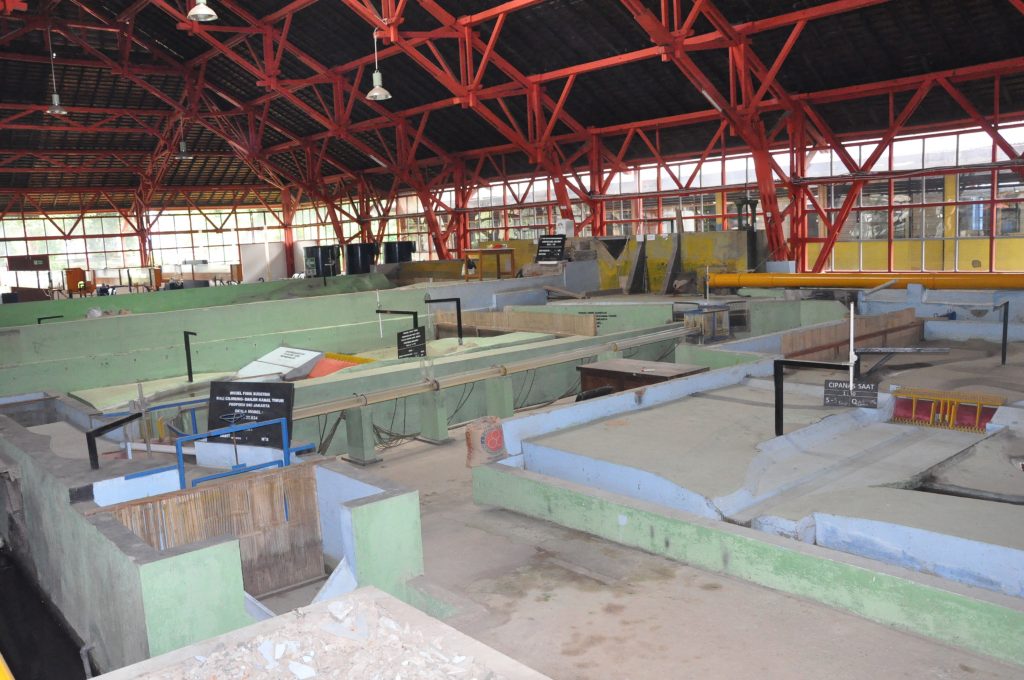 About
Water Resources Engineering Laboratory consists of:
Fluid Mechanics and Hydraulics Laboratory
Physical Hydraulics Modeling Laboratory
Water resources engineering laboratory, as shown in Figure below, is one of the oldest laboratory in ITB. It has a great role since its establishment in 1930-1940. Many irrigation infrastructures built during that time were designed and tested in this laboratory. The laboratory provides full support for academic and research activities and public services, in accordance with its vision and mission. In addition, students of Civil Engineering usually use Water Resources Engineering Laboratory during their Fluid Mechanics (SI-2131) course. The equipments in the Laboratory are shown below:
Electric Pump
Distribution Channel
Vision & Mission
Vision:
To become an advanced water resources engineering laboratory which capable to support academic and  research activities, and contributes to the nation development as well.
Mision:
To advance the knowldege in the field of water resources engineering
To benefit the society by introducing better solution for water resources related problem
To disseminate the new knowledge to the academia of ITB.
Facilities
basic fluid mechanics apparatus:
Osborne Reynolds apparatus
jet impact apparatus
closed pipe circuit apparatus
glass walled flume
surge tank apparatus
variable capacitance water level gauge
data acquition system
physical modeling space and equipments (pumps, manometer, current meter, turbulent meter)
documentation equipments (DSLR camera, handycam)
echosounder
optical leveling equipment
Activities
Undergraduate Laboratory Session:
Hydraulics
Fluid Mechanics
Graduate research
Scouring at channel bends
Scouring around bank protection measure (groynes)
Flow over side spillway
Unsteady flow
Modified stilling basin for Indonesia region
River morphology
Flow through porous media
Engineering services
Physical model of Sei Rempang Dam Spillway
Physical model of Kalis Weir
Physical model of Rajamandala Spillway
Physical model of Krueng Lawe Alas: Weir, Intake and Desand facilities
Physical model of Diponegoro Dam Spillway
Physical model of Cicapang Bulo Dam spillway
Scour below river crossing pipelines
Design of flap gate
Design of rubber dam system
Administration
Head of WRE Lab: Hadi kardana, ST., MT. Ph.D
Officers and technicians of Hydraulic Physical Model Laboratory:
•    Dadang Hendarman
•    Triyadi
Officers and technicians of Fluid Mechanics and Hydraulics Laboratory:
•    Sopandi
•    Sukadi
Contact Us
Water Resources Engineering Laboratory
Faculty of Civil and Environmental Engineering – ITB
Jl. Ganesa 10 bandung, INDONESIA 40132
Phone: +62-22-2508761