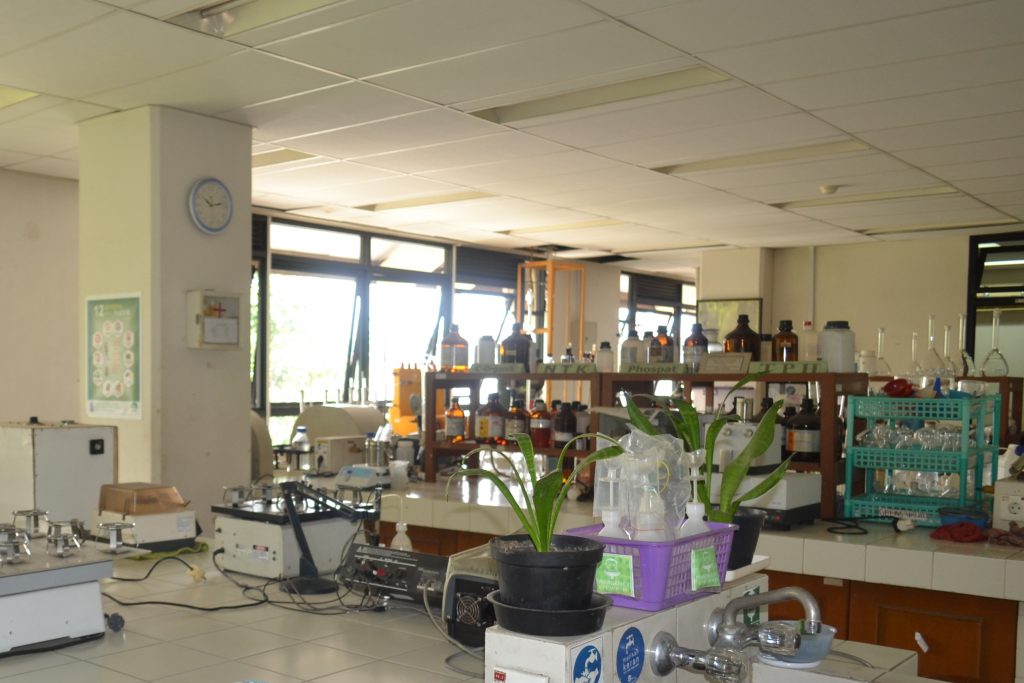 Introduction
The air quality laboratory (AQL) was established in 1976 as a response to the development of academic and research on air quality and pollution control within the Department of Environmental Engineering at Institut Teknologi Bandung. Currently, AQL also carries out services to the public and private sectors in conducting research such as on ambient air quality as well as measurement and monitoring of industrial pollutant emission.
Activities
Research Activities Which Are Conducted in Air Quality Laboratory
Emission Factor for Flue Gas i,e CO, Pb, and Suspended Participate for Vehicles in Indonesia
Flue Gas of CO, NO2, HC TSP, SO2, and Pb influences to the Ambient Air Quality in Southern Bandung
Ambient Air Quality Studies, Particulary for SO2, SO, NOx , and TSP from Suralaya Coal Fire Power Plant Process
Methodology of Sampling Point Determination for Monitoring of Air Pollution Point Source (Case: Pallmanan Cement industry)
Abatement of NOx Using Photocatalytic onto Titanium Dioxide
The Effect of Engine Load on The Composition of Polyciclyc
Arocmatic Hydrocarbon (PAH) in the Diesel Engine Exhaust
Research on Urban Air Quality
Flux Measurement of Ambien Dry Deposition for Total Participate and Pb in Bandung
Air Pollution Studies (Total Suspended Particulate, Pb, SO2, CO, NO2, Total Hydro Carbon) in Northern Bandung Residential Area
Particulate Size Distribution for Sulfat and Nitrat in Bandung
Identification of Gaseous and Particulates Emission Source in Surabaya
Compositional Analysis of the Atmospheric Participate Fraction in Bandung Airshed
Measurement Evaluation of Particulate, NOx, CO, NO3 and Pb on Braga Street Bandung
Analytical Composition, Fraction and Fluctuation of Atmospheric Hydro C1 C5, Case in Nothern Bandung
Analysis of Photooxydant Precursors in Bandung Airshed
Coefficient of Haze as an Indicator for Air Pollution Index, Case Study in Bandung and Jakarta
Correlation of Pollutant Concentration of CO and NOx with Vehicles Number, Case Study: Leuwi Panjang Bus Station Bandung
Research on Air Pollution Control
Biofiltration Process for Removal of Ammonia and Hydrogen Sulphide
Biofiltration Process for Removal of SO2
Removal Efficiency of Biofiltration Process for SO2 at High Load
Research on Tropical Atmospheric Chemistry and Kinetics Study
Analysis of Acidic Participates Behaviour on Dry Deposition
Analysis of Acidic Wet Deposition
Sulphuric Compound Behaviour in Tropical Region
Kinetic Model of Ozon Tropospheric Formation with Hydro Carbon and NOx as Precursors
Identification of Precursor Emission and Acidic Prosess
Reseach on Green House Gases
Emission Factors of Green House Gases from Paddy Fields
Analysis and Prediction of Green House Gases from Energy User Activities
Analysis and Prediction of Green Houses Gases from Non Energy Bioanthropogenic Activities in Indonesia
Other Research Related to Air Quality
Policy Analysis of Air Foliation Control Indonesia
Air Quality Modelling of Bandung Airshed
Emission Inventory of Air Pollutants: CO, THC, NOx, SOx, TSP, and Pta, in Jakarta, Bandung, and Surabaya
Ambient Air Quality Modelling in Jakarta (Characterization of Air Pollutants Fluctuation)
Pollution Level and Emission Factor Measurements (Particulates and Hydro Carbon) from the Use of Firewoods as Household Fuel
Emission Factors of Particulates and Gases from Domestic Coal Bricket Utilization
Analysis of Suspended Particulate and inhalable Particulate Matter
On going Research (start in the year of 2000)
Abatement of Gas Poilutan Using Photocatalytic Activity onto Titanium Dioxide with Vanadium and Activated Carbon
Control of Gas Pollutant From Flare Activity in Oil Refinery Using Steam injection
Eficiency Studies of Ammonia Removal Using Anaerobic Biofiltration
Air Quality Modelling of Transportation in Bandung City
Public Services
Ambient Air Quality Measurement
Cities and industries in West Java and Banten (Cimahi, Banjaran, Rancaekek, Cicalengka, Majalengka, Purwakarta, Cikampek, Bekasi, Jakarta, Karawang, Bogor, Tangerang, Cilegon, Serang, Cirebon, Jatibarang, Indramayu)
Cities and industries outside West Java (Pekan Baru, Lampung, Cilacap, Surabaya, Pontianak Pomalla Kabupaten Kolaba South Sulawesi, Tanjung Balai Karimun Batam)
Power Plants and Gas refineries: PLTU Kamojang, LNG-LPG Bontang, PLTG Pulogadung-Muara Karang & Tanjung Priok Jakarta, PLTP Darajat Garut, PLTU Cilacap, PLTU Suralaya Serang
Cement industries: PT Indosemen Bogor, Semen Palimanan, PT Semen Cibinong Bogor
Coal mining areas in Bengkulu, coal mining area in West Kalimantan
Landfills in Palembang & Bogor, Dago-Leuw IGajah-Sukamiskin in Bandung, Tasikmaiaya,
Other areas: PT Freeport Irian Jaya, Lahendong Forest in Menado, Kelayang Beach in Belitung, Project Samarinda Airport, Cilacap Oil Refinery, apartment area in Karawang, hospitals area in Bandung, Cimone Mall area in Tangerang, Fruit Plantation area in Cibinong Bogor
Emission Measurement
Stack Sampling: Industries in Kotamadya and Kabupaten Bandung, PT Amoco Mitsui PTA Indonesia Ciiegon, Kawasan industri Bekasi
Vehicles Emission: Ujung Berung Vehicles Area, in Western Bandung
Bioreactor Emission: PT Kereta Api Indonesia, Bandung
Facilities
In delivering the services, the AQL is supported by adequate facilities and equipment including among others those for industrial hygiene, noise control, and air quality and emission of industrial pollutant measurements and monitoring : e.g. High Volume Sampler, Low Volume Sampler, Harmful Gas Analyzer, Midget Impinger, Cascade Impactor, Spectrophotometer, Sound Level Meter, Gas Chromatograph, Actinograph, Audio Meter, Digital Dust Indicator, SO2 analyzer, Stack Sampling apparatus, etc.
Contact Us
Air Quality Laboratory
Faculty of Civil and Environmental Engineering – ITB
Jl. Ganesa 10 bandung, INDONESIA 40132
Phone : +6222 2534189
Fax : +6222 2534189
E-mail: udara@tl.itb.ac.id
Website : http://www.ftsl.itb.ac.id/lab/aql/